What Is Cards Against Humanity About?
Things aren't always as obvious as they seem to be, for example, what keys are for, what locks are intended to do or even the name of a card game and its clear definition. Here's the thing-the question, " what is cards against humanity about? ", answers itself within the question but apparently we can't just go around assuming things are obvious. See what I did there?
But in reality the name of the game is really what it's all about. But we're not gonna leave it there. Wouldn't be right.
Feed Me Seymour!!!
Definition: Cards Against Humanity is a party style card game where players are required to fill-in-the-blanks of sentences with offensive words or phrases. It's a party game for horrible people, Cards Against Humanity is as despicable as you and your friends. Labeling it despicable and insulting you and your friends was not my intent there but is actually the description its website boasts loud and proud. The name is probably starting to make more sense to you. They meant what they said.
Basic gameplay: At start, each player draws ten White Cards and the player who most recently pooped ( yes, you read it right ) draws a black card and is the " Card Czar " ( whatever the hell that is? ) . The Card Czar reads the question or fill-in-the-blank phrase on the black card out loud. All other players answer  the question or fills in the blank by passing one white  card, face down, to the Card Czar.
The Card Czar then shuffles all the answers and reads each card combination out loud to the group. The Card Czar should re-read the black card before presenting each answer. Finally the Card Czar picks the funniest play, and whomever played that card gets a point.
After a complete round of play, a new player becomes the Card Czar and everyone gets ten cards again.
Pick 2 • Some black cards say " pick 2 " on the bottom. In order to answer these, each player plays two white cards in combination. Important: Arrange them in the order that the Card Czar should read them. Play the first card face down, play the second card on top face down.
Gambling • If you have more than one white card that you think could win a round, you can bet one of your points to play an extra white card. If you win, you keep the point. If you lose, whoever wins gets that point. 
House Rules
• Rando Cardissian • Happy Ending • Never Have I Ever • Wheaton's Law • Rebooting The Universe • Packing Heat • Meritocracy • Smooth Operator • Tie Breaker • Chubby Bunny • Freaky Friday • Hard Mode • Russian Roulette • Hail To The Chief • Race To The Moon • Smoke Opium And Play Cards Against Humanity • Wait For Godot • Don't Play Cards Against Humanity
Cards against humanity have a bunch of different house rules and we don't need to go through them  at this point.
Who Does This?
Well..Max Temkin, Josh Dillon, Daniel Dranove, Eli Halpern, Ben Hantoot, David Munk, David Pinsof, and Eliot Weinstein does if you really want to know. These are the names of eight friends who met in school and decided to create this game. They completed a small crowdfunding campaign on Kickstarter to fund the first production run and since have turned it into a very successful business. In fact, when in stock it's the number one game on Amazon.com. Over a half million $25 decks sold more than a year ago earning these eight friends an estimated $12 million. Apparently everyone does excluding you and I.
Play Your Cards Right
To be a winner in this game you pretty much need to be an awful person, and this game lets you do so in a not so discrete pun-intended kind of way. With your friends of course, so there's no reason for feeling guilty for giving that highly offensive answer you just stole the game with. Heart-breaking answers are encouraged with cards that offer a chance to respond with racism, homophobia and just about anything else you can think about to provoke anger in a normal environment. This environment however is far from the norm and everyone at a table holding these cards are part of their own little secret society and again as its own website boast, " Horrible People ". Seeing a few examples of the questions asked during gameplay I'm not sure I'd be a team player. I'd probably want to know which one of my buddies secretly hated gay people. The winner at my table would probably not want to be a proud winner because I would have tons of questions. Would you feel horrible playing or better yet winning Cards Against Humanity? Will you play your cards right?
Hello Horrible
So now that your question " what is cards against humanity about " has been answered, do you have to ask yourself if you are indeed a horrible person? I just asked myself and I probably am because I had some fairly quick and easy comebacks to some very offensive example cards I saw online. I refuse to share my answers. I had answers. And now that I Know I could be just as disgusting as every other sick and twisted person who plays this game, I want absolutely nothing to do with it.
But you on the other hand are of a different breed my friend, none of what I have said this far deterred you from finding out more. I have nothing else to say to you about these cards except that I know you want some you horrible human. After all I just told you, you want to know where you can get your dirty hands on a pack. Don't you? Luckily for you I'm only here to inform and I'll hold my tongue on judging you and the others. You can pretty much find these cards anywhere, they are not hard to find at all. A few places to purchase Cards Against Humanity are Walmart, Target, Amazon, and eBay. For your convenience, I have provided a link to purchase Cards Against Humanity directly from Walmart.
" The Picture Below Is A Link To Purchase Cards Against Humanity "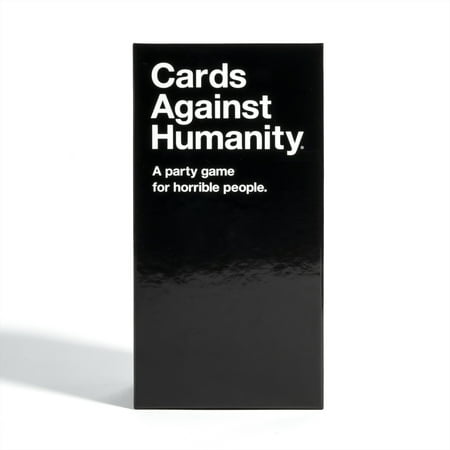 " I Earn A Commission On Qualifying Purchases Made Through This Link. "
The real
Hey guys seriously, no judgement from my end. I don't think anyone should feel a certain type of way about people who play these cards. Also, just because you could probably answer all questions and give the most offensive answers ( that's what I'm afraid of ) doesn't mean you are a horrible person. I Keep trying to convince myself I still love Humanity. I do I swear. Check out my review of " CAH" on my blog for more detailed information.
If you have any additional input or have a question for me please feel free to post what you have to say in the comment section below.
Best Cards & Best Regards
Jontae Smith